Wednesday, October 12, 2022 - 10:00am
Click here to register for this virtual event.
If only people could visit Mars, there would be so much to learn! Since we haven't figured out how to send humans to the Red Planet, scientists have developed a special mechanism—a rover named Opportunity—instead. Oppy worked hard to discover Mars' secrets and its planned three-month voyage lasted for 15 years. And scientists learned lots until a storm came and changed the rover's trajectory. Hello, Opportunity is a special story that introduces Opportunity's groundbreaking Mars mission, lessons learned, and its unexpected ending.
Shaelyn McDaniel grew up in South Florida before moving to New York for a digital marketing career with kids' books. In college, she majored in English. As a kid she assumed humans had already been to Mars, and as an adult she remains incensed that we haven't (yet). This is her debut picture book.
Ages 6-8
Child & Teen
Children
Teens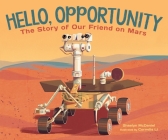 $18.99

ISBN: 9781645674696
Availability: In Stock—Click for Locations
Published: Page Street Kids - September 20th, 2022
---
Not Signed or Personalized