Thursday, November 17, 2022 - 10:00am
Click here to register for this virtual event.
Kindness is at the center of this deeply engaging picture book depicting Hong Kong's busy Tai Yuen Street. A young girl helps her family run their business in the bustling street market. She dreams of a promised treat at the end of the long day – a mooncake with a double yolk center! Suddenly a stranger collapses on the street in front of their shop, thoroughly depleted, needing something to eat. The man is ignored until the girl's mother encourages her to give him the special mooncake…the one meant just for her. This one generous act starts a chain reaction, as others in the market step up to assist the man. Drawing on a story from her own childhood, Pearl AuYeung's culturally immersive debut picture book conveys an important lesson in healing the world through compassion.
Pearl AuYeung was born in Hong Kong, raised in Shanghai, and now lives in California, where she designs toys. Childhood visits to her grandma and uncle's pajama hawker stall on the delightfully crowded Tai Yuen Street inspired Pearl to tell this story in her debut picture book.  Passionate about food and the past, she enjoys cooking and researching the histories of food and surnames.
Signed bookplates and Mooncake stickers available included with purchased book, while supplies last.
Ages 4-8
Virtual
Child & Teen
Children
Teens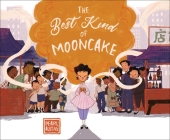 $18.99

ISBN: 9781645675563
Availability: In Stock—Click for Locations
Published: Page Street Kids - October 11th, 2022
---
Not Signed or Personalized