Friday, October 1, 2021 - 10:00am
Click here to register for this virtual event.
The Dracula family is spending the day at the zoo when baby Dracula makes a surprising, sly switch with baby penguin, exploring the zoo in an entirely new way. Observant readers will notice baby Dracula as he hangs out in the Penguin House, eating and playing around while baby penguin stays strapped in the stroller with the Dracula family all day long with no one the wiser. Will the Dracula family bring the right baby home? Vampenguin is sure to keep adventurous young readers on their toes.
Lucy Ruth Cummins is an author, an illustrator, and an art director of children's books. Her debut picture book, A Hungry Lion, or A Dwindling Assortment of Animals, was a finalist for the Governor General's Award, an Irma Black Honor Book, and an ALA Notable Book. She is also the author-illustrator of Stumpkin. She lives with her family in Brooklyn, New York.
Ages 4-8
Child & Teen
Children
Offsite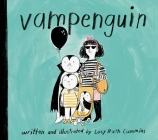 $17.99

ISBN: 9781534466982
Availability: In Stock—Click for Locations
Published: Atheneum Books for Young Readers - July 20th, 2021
---
Not Signed or Personalized