Bedtime Meditation Stories for Kids: Meditation and Mindfulness Techniques to Help Your Kids Calm Down and Have Sweet Dreams At Night (Hardcover)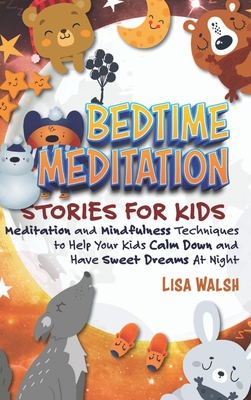 $34.95
Not On Our Shelves—Ships in 1-5 Days
Description
---
55% OFF for Bookstore NOW at $ 34,95 instead of $ 46,95
Ultimately, mindfulness is meant to be a technique to calm individuals,
making this book a great aid in keeping children and parents calm around bedtime.
Your Customers Will Never Stop to Use this Great Bedtime Stories Book
Parenting is difficult; there is no denying it. Perhaps one of the more challenging aspects of the job, however, is the dreaded nighttime routine. Oftentimes you will be met with tantrums and frustrated emotions from both the child and co-parent. One proven way to help your child calm themselves before bedtime and have a more restful sleep is to engage in meditative exercises and teach them to be mindful. Of course, mindfulness can be a difficult concept to grasp for adults, let alone one to teach to children.
This is where this book comes in.
- It will solve the problem of teaching and helping your child to understand mindfulness.
- To do so, this book brings together mindfulness exercises and entertaining children's stories.
- By reading the different stories found within, your child will be participating in different mindful and meditative activities,
- in turn, becoming calmer and less stressed in the process without even knowing it
- What's more is this book also provides guided mindfulness activities-ones that are not hidden within stories-that can be explained, understood, and accomplished by older children. This makes this book useful for many years of your child's life.
So, BUY this book NOW and let your customers send your child off to sleep in a snap with these unique meditation techniques and entertaining stories.