I am LovingKindness Journal: For Kids (Paperback)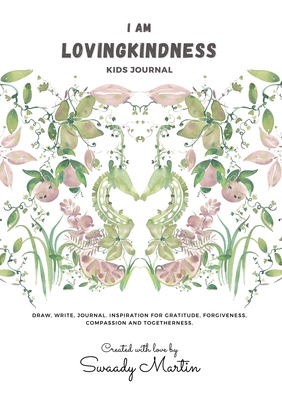 $27.00

Not On Our Shelves—Ships in 1-5 Days
Description
---
The LovingKindness journal is a love-made companion for children to write about their dreams, their observations and their preferences.
Designed to kindle creativity and help children develop self-reflection practices to cope with life's everyday challenges, the journal includes writing prompts and drawing suggestions that support habitual focus on LovingKindness core principles: gratitude, forgiveness and compassion.
Drawing on both ancient and modern self- development principles, the dozen of practices introduced here are simple, practical and whimsical. Beautifully illustrated, they are meant to introduce in a fun and tender manner life enhancing perspectives to the hearts and visions of our children.
The Journal contains the 16 most important emotional skills for a fulfilled and happy life:
1. Self-Knowledge & Introspection
2. Forgiveness & Reconciliation
3. Non-Violent Communication
4. Compassion
5. Gratitude
6. Positive mindset
7. Self-Love
8. Creativity
9. Service to others
10. Kindness
11. Presence & Mindfulness
12. Surrendering & Acceptance
13. Healthy Curiosity
14. Humility
15. Making mistakes
16. Earth connection
The journal includes:
Dozens of wisdom tips & practices easy to apply in daily life.
Thoughtful prompts designed to ignite creativity.
Beautiful illustrations and a layout made for self-discovery.
Mindfulness guidance to enhance emotional capacity & resilience.
LovingKindness touches, thoughts, ideas and prayers.
The journal supports children with:
Self-knowing development
Creativity expansion
Resilience skills building
Mindful expressions
Compassionate practices