Colors of the Wind: The Story of Blind Artist and Champion Runner George Mendoza (Hardcover)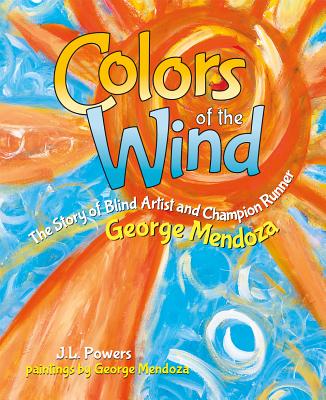 $18.95

Special Order—Subject to Availability
Description
---
George was one of those kids. You know, the kind that never stays still. Then one day, the doctor said he was going blind. Did that slow George down? Not for a single second. In fact, he was so fast, he went on to break a world record for blind runners. And now he's breaking more barriers--because ironically, George Mendoza, blind painter, paints what he sees.
George started going blind at age 15 from a degenerative eye disease. It wasn't the sudden onset of blindness that many people experience. George lost his central vision and started seeing things that weren't there--eyes floating in the air, extraordinary colors, objects multiplied and reflected back. He describes this condition as having "kaleidoscope eyes."
He triumphed over his blindness by setting the world record in the mile for blind runners, and later competing in both the 1980 and 1984 Olympics for the Disabled. Now a full-time artist, Mendoza's paintings are a National Smithsonian Affiliates traveling exhibit.