Bedtime Stories For Kids: The Ultimate Collection of Meditations Scripts to Help Toddlers and to Make Children Fast Asleep, Mindfulness for Babi (Paperback)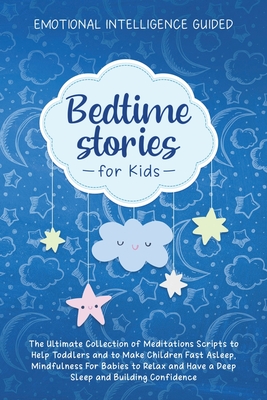 $23.95

Not On Our Shelves—Ships in 1-5 Days
Description
---
Your Customers Will Never Stop to Listen to These Bedtime Stories
>>COLOR VERSION
Are you kids the type who love listening to stories before falling asleep?Is it a challenge to have good stories that will grab the attention of your kid?Are you eager to help your child to meditate and sleep in a calm and relaxed way?
Today there is no shortage of distractions that may keep a young child up at night.
On the technology side, we have smartphones, tablets, computers, tv screens, and the list goes on and on.
It is becoming increasingly common for young children to have access to digital devices up until the final hours of the day. During which they will most likely want to stay up and continue to play with their high tech toys.
On the nutritional side, youngsters may receive higher amounts of sugar by eating processed foods like cereals and pastries before heading off to bed. These types of foods ultimately translate to a late-night sugar rush that is met with hyperactivity.
And finally, there seems to be something about the nighttime that just encourages young kids to go crazy. For whatever reason, when the sun goes down and the pajamas go on, youngsters have an inclination to act out and raise all kinds of ruckus.
Good sleep is attributed to good night time routines, especially when it comes to children. Instead of being glued to the tv until the very last minute, children should ideally have a buffer zone of 30 to 45 minutes of no screen time before bed. If possible, longer than that.
But children don't want to do that.
They want to continue having whatever fun they were having prior to you saying the dreaded word calling for bedtime. Children don't want to go to sleep. They want to stay up and play. One possible solution to this conundrum has always been to coax a child into their bed with the promise of telling them a bedtime story.
A good bedtime story can be engrossing enough to keep a child's attention while also being educational. The best stories manage to achieve both of these things while at the same time inducing a sleepy response for the child. There's nothing like being told a good bedtime story with compelling characters and situations only to have a warm bed to instantly fall asleep in.
What's more, the bedtime story can help develop language skills in toddlers and has always been seen as a safe method for parent and child bonding time. A child who becomes hooked on bedtime stories told by their mama or papa will ask for them every night.
These stories tend to be just as good, even if there is no recognizable lesson to be taught or a tradition of being passed down.
Is it really fair to scold a child for using technology before bed when the average adult will even sleep with their phone?
Buy it NOW and let your customers get addicted to this amazing book