Bedtime Stories For Kids: The Complete Collection Of Sleep Stories For Children, Mindfulness Learning, Deep Sleep Hypnosis, Mindful Meditations, (Hardcover)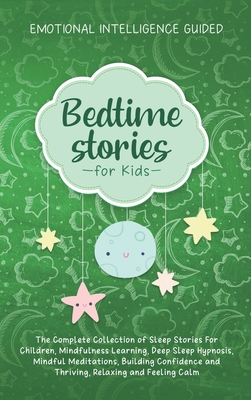 $33.95

Not On Our Shelves—Ships in 1-5 Days
Description
---
Your Customers Will Never Stop to Listen to These Bedtime Stories
>>COLOR VERSION
Do you have a difficult moment ensuring that your kid falls asleep?
Are your children restless and sad the moment they wake up in the morning?Are you willing to twist the story and ensure the bedtime moment becomes fun and full of creativity?
The imagination of a child is a fragile and magical sense of wonder, that should be nurtured in any way possible. I am so honored that you have selected these tales to aid in the exploration of your little one's imagination.
By reading to your child, you are creating memories that they will carry with them always. Stories like these may be used to enforce morality and enable that creativity that seems to come naturally to all children.
Allow your children to explore the magic of other destinations from the comfort of your own home. In this book, we will be going through a number of stories to learn about many new friends.
These stories are centered on teaching
strategies for problem solving
and relaxation
. Each chapter is an introduction to a character that includes a
clear moral message
or is
designed to assist your child in falling asleep
. Each tale will stress the importance of
positive thinking
,
meditation
, or
breath control
. The benefits of learning and using
mindfulness meditation
and
relaxation techniques
cannot be overstated. The following are just a sampling of the many behavioral, emotional, and physical benefits of employing mindfulness meditation and relaxation techniques.
Improved quantity and quality of sleep
Improved overall mood
Improved academic performance
Improved work performance
A reported decrease in daily anxiety
A reported decrease in daily stress levels
Improved chronic pain outcomes
Lower blood pressure and other positive health effects
Stories like these, offer growing minds a chance to be swept up in adventures into other worlds. Words have the power to change our perspectives, teach us, and move our hearts. The memories that you create by reading to your little one will stay with them forever.
Even if you fear that mindfulness is just a trend word, you can make it the best aspect of your kid within minutes of reading the stories.
These narratives that you will spin to your little ones before they sleep, will provide a strong and lasting sense of value. Reading to your children can also serve to kick-start their imagination in a way that other electronic media will never be able to do.
Take a chance on us and use this book to shepherd your children toward making decisions that
benefit
both themselves and others. Buy it NOW and let your customers get addicted to this amazing book