Improve Your Social Skills: 61 Powerful Lessons to Gain Confidence and Build Healthy Relationships by Reclaiming Your Life from Social Anxiety and (Paperback)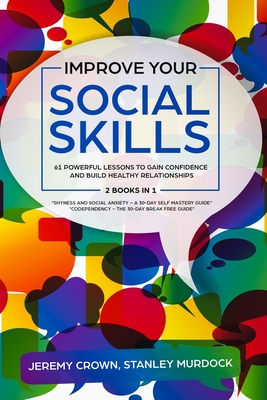 $8.95

Not On Our Shelves—Ships in 1-5 Days
(This book cannot be returned.)
Description
---
If You Want to Connect to Others and Have Meaningful Relationships, But Low Self-Esteem and Anxious Thoughts Hold You Back, Than Keep Reading...
Do you want to make friends and get dates (or just to have more fulfilling relationships in general) but things keep getting awkward?
Is it hard for you to set healthy boundaries and to ask for what you want?
Are you looking for advice on what to say and do to have success in your social life?
Social anxiety disorder is one of the most common mental illnesses, affecting 15 million adults in the United States. Codependent behavior is demonstrated by over 90 percent of the population by some degree.
These two facts mean that most of us living and communicating in a way that prevents healthy, mature, meaningful relationships to form. If you're affected, a common thought probably crossed your mind:
"If I just know what should I say and do, everything would be fine".
Yes, it seems like a great idea to work on your social skills. However, in reality, those techniques will do nothing to solve the deep-seated problems that you had in the first place.
Therefore, it's absolutely necessary to gain awareness and control over your anxious and codependent tendencies before throwing yourself into "way out of the comfort zone" social interactions that trigger you and can cause more harm in your life.
This book contains two manuscripts. Here are just a few snippets of what you'll discover in them...
In "Shyness and Social Anxiety - A 30-Day Self Mastery Guide"
A simple plan that utilizes Cognitive Behavioral Therapy, Mindfulness and Acceptance Therapy to give you 31 lesson for dealing with anxiety in your social life
A key technique to expand your awareness and guide you through your transformation in just 10 minutes per day
Why analyzing your negative emotions around people won't help you overcome them - and what you can do instead
A method to instantly feel better and get yourself together - for example before you meet up with someone new
Plus... "7 Common Mistakes You Probably Do when Trying to Cope with Anxiety and How to Overcome it" - which is absolutely a must-read if you feel stuck or held back by social anxiety.
In "Codependency - The 30-Day Break Free Guide"
30 little-known yet powerful exercises that will help you stop screwing up your relationships and develop healthy connections
Why being overly involved with other people is alienating them - and how to make them want to be with you instead
How to develop proper communication skills without pleasing, manipulating or controlling people
Why relying on your partner for fulfillment never make you (or them) happy
Why expressing your anger won't ruin your social life - and how to do it to actually make it better?
6 out of 10 promising relationships has no future because of codependent behavior. This book shows you how to avoid becoming one of them.
Remember, forcing the breakthrough in social interactions without solving the underlying problems won't get you far. In most cases, it only causes more tension and despair, without real, deep, lifelong change.
Even if you think you're an outsider who's detached from society... and you feel hopeless and are on the edge of giving up... the information in this book will work magic on your attitude, social skills and how others will perceive you.
Can t decide if you want to hold a real book in your hands or read on your kindle? Here's the solution. Invest in the paperback version, and you'll get the e-book as a free bonus. Limited time only.

So if you really want to get rid of your unhealthy and self-sabotaging social tendencies and finally find a way to connect others, then scroll up and click "Add to Cart".