Worries Are Not Forever / Las preocupaciones no duran para siempre (Best Behavior® Paperback Series) (Paperback)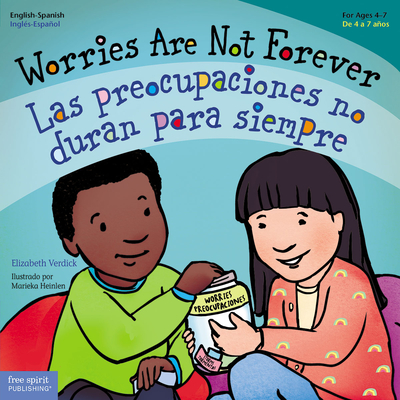 $11.95

Not On Our Shelves—Ships in 1-5 Days
Description
---
New English-Spanish bilingual edition gives young children strategies to ease anxieties and worries and feel better again.

Everyone feels worried or anxious at times, and young children are no exception. Friendly and supportive, this bilingual English-Spanish book explains what worries are and how it feels to be worried, assuring children that lots of kids—and grown-ups too—feel worried. Children learn that there are many ways to help their worries go away: "Guess what? You are bigger than your worries. You can learn to make your worries smaller and smaller and smaller." Talking about worries, moving around, keeping hands busy, breathing deeply, getting a big hug, and thinking good thoughts are all ways for children to cope with worries. A special section for adults in both languages offers activities and discussion starters for home, school, and child care.

Best Behavior® Bilingual Series
The Best Behavior® bilingual series uses simple words in English and Spanish and delightful full-color illustrations to guide children to choose peaceful, positive behaviors. Select titles are available in two versions: a durable board book for ages baby to preschool and a longer, more in-depth paperback for ages four to seven. Kids, parents, and teachers love these award-winning books. All include helpful tips and ideas for parents and caregivers.
About the Author
---
Elizabeth Verdick has been writing books since 1997, the year her daughter was born. Her two children are the inspiration for nearly everything she writes. Before becoming an author, Elizabeth edited books for children and parents. These days she writes books for babies, toddlers, teens, and every age in between. She especially loves creating new board book series—including the Happy Healthy Baby® series, which is designed to capture the interest of your littlest readers. Elizabeth's Toddler Tools® series helps young children and their parents cope with those tough times and transitions that happen every day (like naptime and bedtime). In the Best Behavior® series, she helps toddlers reach new milestones and improve their day-to-day behavior. Elizabeth also enjoys writing books for the Laugh & Learn® series, such as How to Take the GRRRR Out of Anger, and the Survival Guides for Kids series, such as The Survival Guide for Kids with Autism Spectrum Disorders; both series help kids ages 8–13 get a handle on the social and emotional skills they're developing throughout the elementary and middle school years. Elizabeth lives with her family and five pets near St. Paul, Minnesota.

Marieka Heinlen received her B.F.A. at the University of Wisconsin, Madison, and also studied at Central Saint Martins College of Art and Design in London. She launched her career as an award-winning children's book illustrator with Hands Are Not for Hitting and has illustrated all the books in the Best Behavior® and Toddler Tools® series. Marieka focuses her work on books and other materials for children, teens, parents, and teachers. She lives in St. Paul, Minnesota, with her husband, son, and daughter.