The OCD Workbook for Kids: Skills to Help Children Manage Obsessive Thoughts and Compulsive Behaviors (Paperback)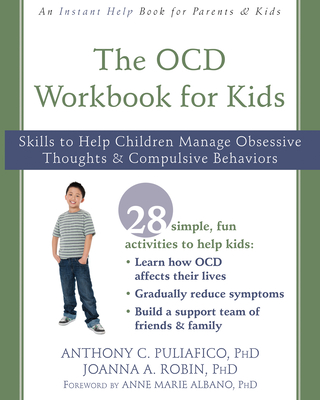 $17.95
Not On Our Shelves—Ships in 1-5 Days
Description
---
Does your child have OCD? In this much-needed Instant Help workbook, kids will learn to identify obsessions and compulsions, understand them, and use simple tools based in exposure and ritual prevention to cope with and overcome this difficult disorder.
If your child has obsessive-compulsive disorder (OCD), he or she may suffer from obsessive thinking, use rituals to soothe anxiety, and act compulsively in ways that are disruptive and sometimes harmful. As you know all too well, OCD can greatly interfere with school, friends, and home life. So, how can you help your child be their very best?
With this evidence-based workbook for kids, your child will learn how and why they struggle, and gain a greater understanding of what OCD is by identifying common symptoms, including contamination concerns, fear of harm, need for order/symmetry, and excessive doubting. Your child will then be gently guided to name their own symptoms and rate the extent to which each symptom causes them anxiety.
The workbook also provides a framework for children to apply exposure and ritual prevention strategies to anxiety-provoking situations independently or with help from you or a caregiver. Detailed instructions for completing exposure exercises will be covered, including how long exposures should last, and how often they should be repeated. Finally, the workbook will show you and your child how to build a solid support system of family, friends, teachers, and professionals to aid you in managing OCD symptoms and building a lifestyle that will help you both deal with your child's symptoms more effectively.
If your child's OCD is holding them back from living the happy childhood you want for them, this easy-to-read and practical workbook can help them cope with symptoms and really thrive--at home, in the classroom, and well into adulthood.
About the Author
---
Anthony C. Puliafico, PhD, is a clinical psychologist and director of the Columbia University Clinic for Anxiety and Related Disorders-Westchester. He is a renowned expert in the assessment and treatment of anxiety disorders and obsessive-compulsive disorder (OCD) in children, adolescents, and young adults. Joanna A. Robin, PhD, is a clinical psychologist and director of Westchester Anxiety Treatment Psychological Services, P.C. She specializes in cognitive behavioral therapy (CBT), and is an expert in the treatment of anxiety, OCD, and behavioral problems. Both Puliafico and Robin practice in Westchester, NY. Foreword writer Anne Marie Albano, PhD, is professor of medical psychology in psychiatry at Columbia University, and director of the Columbia University Clinic for Anxiety and Related Disorders.