Big Science: Ernest Lawrence and the Invention that Launched the Military-Industrial Complex (Hardcover)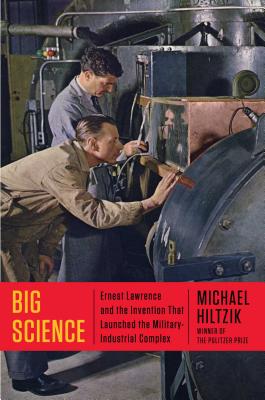 $30.00
Special Order—Subject to Availability
Description
---
From a Pulitzer Prize–winning journalist and Los Angeles Times contributor, the untold story of how science went "big," built the bombs that helped win World War II, and became dependent on government and industry—and the forgotten genius who started it all, Ernest Lawrence.

Since the 1930s, the scale of scientific endeavors has grown exponentially. Machines have become larger, ambitions bolder. The first particle accelerator cost less than one hundred dollars and could be held in its creator's palm, while its descendant, the Large Hadron Collider, cost ten billion dollars and is seventeen miles in circumference. Scientists have invented nuclear weapons, put a man on the moon, and examined nature at the subatomic scale—all through Big Science, the industrial-scale research paid for by governments and corporations that have driven the great scientific projects of our time.

The birth of Big Science can be traced to Berkeley, California, nearly nine decades ago, when a resourceful young scientist with a talent for physics and an even greater talent for promotion pondered his new invention and declared, "I'm going to be famous!" Ernest Orlando Lawrence's cyclotron would revolutionize nuclear physics, but that was only the beginning of its impact. It would change our understanding of the basic building blocks of nature. It would help win World War II. Its influence would be felt in academia and international politics. It was the beginning of Big Science.

This is the incredible story of how one invention changed the world and of the man principally responsible for it all. Michael Hiltzik tells the riveting full story here for the first time.
About the Author
---
Michael Hiltzik is a Pulitzer Prize–winning journalist and author who has covered business, technology, and public policy for the Los Angeles Times for three decades. He currently serves as the Times's business columnist and hosts its business blog, The Economy Hub. His books include Big Science, The New Deal, Colossus, Dealers of Lightning, and The Plot Against Social Security. Mr. Hiltzik received the 1999 Pulitzer Prize for articles exposing corruption in the entertainment industry. He lives in Southern California with his wife and two children. Follow him on Twitter @HiltzikM.
Praise For…
---
"Lucidly written. . . . Hiltzik's tale is important for understanding how science and politics entwine in the United States, and he moves it along efficiently, with striking details and revealing quotations."
— Robert P. Crease

"Entertaining, thoroughly researched . . . an unusual take on Lawrence's life and work—partly a biography, partly an account of the influence of his great idea, partly a short history of nuclear physics and the Bomb."
— Graham Farmelo

"This is an astonishing story: US physicist Ernest Lawrence is at its core, but its scope is broad and full of context and characters."
— Jon Butterworth

"Absorbing and expansive. . . . Beyond the sheer thrill of the story, Hiltzik's delightful book is invaluable as a basis for reckoning how Big Science can persevere and evolve."
— Jonathon Keats

"The author of several books on the interplay of society and technology, Hiltzik is best at making the science of Lawrence's lab accessible to the reader."
— Gregg Herken

"A fascinating biography of a physicist who transformed how science is done."

"Michael Hiltzik tells an epic story, one with arenas of tragedy as well as triumph, and he tells it well."
— Richard Rhodes, Pulitzer Prize-winning historian

"Einstein famously formulated new theories of the universe while sitting alone in the patent office in Bern. Today, many endeavors in fundamental research require large budgets, elaborate facilities, and huge staffs. How did science become 'Big Science'? In this fascinating book, Michael Hiltzik gives us the inside story of this remarkable metamorphosis. This is a gripping biography of Big Science and of the people who originated it."
— Mario Livio, Astrophysicist, and author of Brilliant Blunders

"An informative and thought-provoking account of the role played by the cyclotron and Lawrence's radiation laboratory in the emergence of the military-industrial complex."
— Glenn C. Altschuler

"An exciting book. . . . A bright narrative that captures the wonder of nuclear physics without flying off into a physics Neverland. . . . Big Science is an excellent summary of how physics became nuclear and changed the world."
— Jules Wagman

"20th-century science delivered a series of revolutions, none more instantaneous than the microseconds it took to explode the first atomic bomb. By framing this story—and the development of the cyclotron that made it possible—from the Lawrence/Livermore perspective rather than the Oppenheimer/Los Alamos perspective that has dominated most accounts, Michael Hiltzik sheds fresh light on the transition from small science to big science that we take for granted today. Especially timely is a fascinating account of Lawrence's attempt to return to small science: how do you encourage a small group of scientists to produce big results, rather than the other way around?"
— George Dyson, author of Turing's Cathedral: The Origins of the Digital Universe

"When the young Berkeley physics professor Ernest Lawrence first envisioned what he called a 'proton merry-go-round,' he recognized its potential to revolutionize science. Hiltzik here tells the fascinating story of how this exceptional scientist won support for his epoch-making research tool and then assembled and managed an unprecedented team of experts who used that tool to penetrate subatomic mysteries."

"[Hiltizk's] portrait of [Ernest] Lawrence, who gave birth to the modern research lab through sheer force of will, is powerful."

"As Michael Hiltzik's commanding new analysis argues, Lawrence was far more than just another scientist tinkering with another machine. . . . Hiltzik has written not so much a biography as a study of Lawrence's role in broader questions involving postwar science and politics."
— Alexandra Witze