Putting on the Brakes: Understanding and Taking Control of Your ADD or ADHD (Hardcover)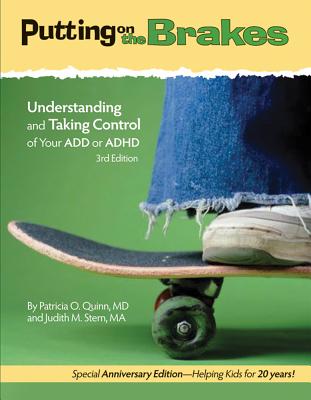 $16.95
In Stock—Click for Locations
Description
---
Completely updated and expanded, Putting on the Brakes, 3rd Edition continues to be the go-to resource for kids with AD/HD.
This essential guide -- celebrating its 20th year in print -- is loaded with practical ways to improve organization, focus, attention, time management, and scheduling, as well as studying and homework skills. Importantly, kids will also find strategies for making friends, controlling emotions, and being healthy.
Putting on the Brakes gives kids with AD/HD the tools they need for success in and out of school and a plan to manage all types of attention disorders.

From the Introduction to the 3rd Edition:

Many things have changed over the last 20 years. Magination Press (an imprint of the American Psychological Association) acquired the title and through the years encouraged us to keep the book up-to-date as AD/HD developed into a better-understood disorder. Other things have changed as well, particularly with respect to the diagnosis and treatment of AD/HD. More children than ever are being diagnosed. The last Centers for Disease Control report from 2007 indicates that, according to their parents, 9.5 percent of all children have had an AD/HD diagnosis. That represents approximately 5.4 million children. Newer long-acting medications (both stimulants and non-stimulants) are now available to treat AD/HD. Teachers are better trained to recognize the impact of AD/HD on children in the classroom and to provide effective intervention. Counselors and therapists who treat children with AD/HD are able to provide important services to them and their parents. Coaching and other cognitive-behavioral therapies have been introduced as treatments for AD/HD.

However, as we think back through all this, we realize that much remains the same. Kids still need to learn about their AD/HD, how it affects them, and what they can do to take control of their symptoms, emotions, and academic performance to ensure success. Kids need straightforward explanations and reassurance that AD/HD can be managed. Kids need to know that they are not alone. Kids with AD/HD are the reason we wrote this book in the first place and they continue to motivate us to share what we have learned over the past 20 years.

It is with great pride that we welcome you to this new "20th anniversary" edition of Putting on the Brakes.

About the Author
---
Patricia O. Quinn, MD, is a developmental pediatrician in Washington, DC. Dr. Quinn is a well-known international speaker and conducts workshops nationwide about AD/HD, and has authored several best-selling and groundbreaking books on AD/HD including Attention, Girls! A Guide to Learn All About Your AD/HD and with co-author Theresa Maitland, PhD, Ready for Take-Off: Preparing Your Teen With ADHD or LD for College and On Your Own: A College Readiness Guide for Teens With ADHD/LD. In 2000, Dr. Quinn received the CHADD Hall of Fame Award.Judith M. Stern, MA, is a teacher and private educational consultant in Rockville, Maryland, specializing in work with children who have learning and attention problems. She is an experienced learning disabilities teacher, reading specialist and classroom teacher. She consults with parents and teachers, speaks nationally on subjects such as attention deficit disorder, learning problems and children's study/organizational skills. She is the co-author of four children's books on AD/HD and LD, including with Uzi Ben-Ami, PhD, Many Ways to Learn, Second Edition: A Kid's Guide to LD. She is also the co-author of The Dyslexia Checklist: A Practical Reference for Parents and Teachers.