Flustered Without Mustard: Finding Calm When Angry or Frustrated (Paperback)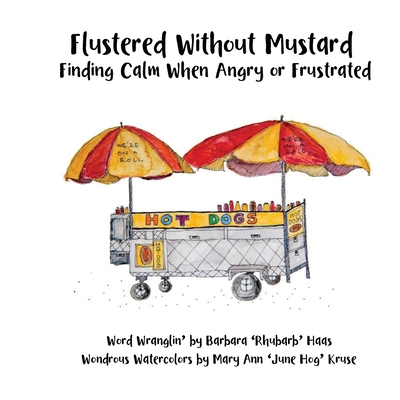 $19.95
Not On Our Shelves—Ships in 1-5 Days
Description
---
Children, Students, Parents, Teachers, Counselors, and Mindfulness Coaches
Flustered Without Mustard: Finding Calm When Angry or Frustrated is a rhyming picture book about a hot dog vendor who runs out of mustard, which sets off a wide variety of customers' reactions. The tale has many points to ponder and ideas towards taking responsibility for one's own emotions.
The story could be read in 15 minutes, yet is meant to spark lively discussions at home, in the classroom, or in the counseling office. It offers a variety of suggestions that could be used easily anytime, starting with taking three deep breaths.
Barbara 'Rhubarb' Haas, MA Education, blends decades of teaching (from the Madeline Hunter days to the Kagan & Kagan era), studying and incorporating brain-based learning techniques, and guiding students in managing their wide range of emotions.
The whimsical watercolors by illustrator, Mary Ann 'JuneHog' Kruse, the author's sister, help readers to remember ways to calm, to tap into one's own inner strengths and wisdom.
"What we know matters, but who we are matters more." - Brene' Brown
Education includes academics and socio-emotional development. As parents and teachers know, emotions affect learning, whether it's the excitement of the first snowstorm or some hurt, disappointment, or fear. The importance of emotional development is recognized in schools nowadays, and students are taught character-building and conflict resolution skills.
Many teachers are using brain-based learning techniques to engage students using these social skills to their benefit. Slow breathing has been found to reduce anxiety and relieve stress, and schools and households around the world are enjoying the benefits of mindfulness techniques.
This wisdom book with suggestions for calming can be used to enhance thinking, enliven conversations, and motivate writing. It is a great resource for parents with toddlers, teachers K - 6, as well as counselors of teens.
May the playful rhymes and colorful illustrations put a twinkle in your eye.
May you always be young enough to enjoy picture books with a child.
Remember to breathe, breathe, breathe.