Wise Guy: The Life and Philosophy of Socrates (Hardcover)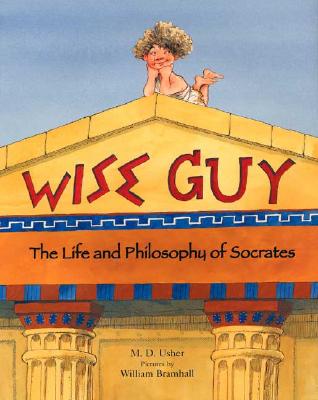 $16.00

Special Order—Subject to Availability
Description
---
Greek philosophy for kids

"I know that I know nothing."

With this classic statement, uttered over two thousand years ago, Socrates set the standard for the future of Western philosophy. By day, he soaked up the sun in the Athenian marketplace, where he'd converse for hours on end about the meaning of wisdom, right and wrong, courage, justice, and love. By night, he feasted and danced with friends. He was charming, but not handsome, happy, but not rich. Unfortunately, his method of thinking did not sit well with everyone. In the end, his fellow Athenians punished him with death.

The story of Socrates' life unfolds through cheerful illustrations and a two-tiered text, one layer quite simple, the other full of juicy additional details about the philosopher's life and times. The ending assembles a "School of Athens," showcasing thinkers, from Erasmus to Martin Luther King, Jr., who have been inspired by Socrates' philosophy.
About the Author
---
M. D. Usher is a professor of classics at the University of Vermont, and this is his first children's book. He lives in Shoreham, Vermont. William Bramhall is the author and illustrator of one other children's book, " Hepcat." He lives in Fairfield, Connecticut.
Praise For…
---
"Socrates remains a seminal figure in the history of ideas - ideas which, as Usher, a Classics professor, brilliantly proves, are not beyond the abilities of even younger readers to absorb. An intimate, memorable, outstanding introduction."
--Starred review, Kirkus Reviews

"While large in scope, Usher (who drew entirely from ancient sources, mainly Plato's dialogues) keeps the ideas clear-cut and accessible, making this Socrates for the school-age set a fine introduction to philosophy." --Starred review, Publishers Weekly

"Usher distills the essence of Socrates's thinking into approachable terms. Anyone wishing to introduce the field of philosophy to students would find this offering a useful starting point." --School Library Journal

"Parents who can't wait to introduce their elementary school progeny to Socrates will find this an original choice." --Booklist